I'm dissolving my doujinshi collection.
Therefore I'm selling some VERY HIGH quality and RARE BLEACH doujinshis in PERFECT conditions.
All doujinshis are NEW, OOP and considered pretty RARE. They feat. mainly Shuhei x Renji x Shuhei.
Please indicate the reference number, your location and shipping preference (priority airmail registered or priority airmail unregistered) when ordering.
I accept PAYPAL. In some cases I'll accept other payment methods, as well.
#ShuRen01 【R-18】
CLICK for detailed information
Price:
20.00 US$
#ShuRen02 【R-16】
Artist/circle:
CATE5RIZE
Pages:
38 (b/w) ⇒ feat. Akon & Shuuhei as well
ART SAMPLE
Price:
18.00 US$
#ShuRen03 【R-18】
Artist/circle:
AMAINU NAORIN
Pages:
164 (b/w) ⇒ RE-collection (2006; 14 works)
ART SAMPLE
Price:
42.00 US$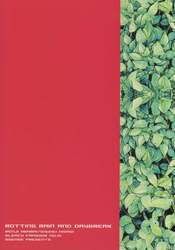 #ShuRen04 【R-18】
CLICK for detailed information
Price:
10.00 US$